Auschwitz Survivor and US War Hero
Tonight - Wednesday, February 24, 7pm
The extraordinary story of a Holocaust survivor (Albert Rosa, 91) who survived the notorious Auschwitz death camp to go on to fight with the US Military against the Nazis and become a decorated war hero including the Purple Heart. A once-in-a-lifetime to hear a tale of survival, resilience and hope from a true hero.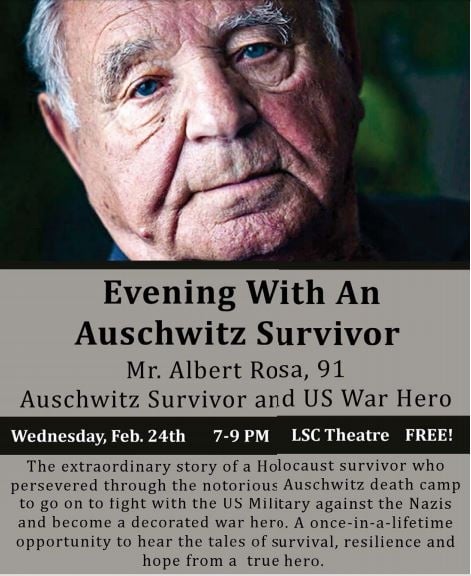 Brought to you by Student for Holocaust Awareness at CSU
Co-sponsored by ACSU, Diversity Grant, Hillel, Chabad and AEPi
Mr. Albert Rosa, 91, was born in Salonika, Greece, the
youngest of eight children in a traditional, middle-class
family. He excelled at swimming, soccer and boxing.
In April 1941, after Germany invaded Greece, Mr. Rosa
could no longer attend school and his father's business was
confiscated. In February 1943, Jews were forced to wear
yellow stars and relocate to ghettos. A month later, Albert's
family and many others were crammed into cattle cars.
Over the next 10 days, they were transported to Auschwitz.
Most did not survive, and Mr. Rosa spent the journey resting
on a neighbor's dead body. "We weren't human anymore,"
he said. Mr. Rosa witnessed the brutal murder of his siblings
in the death camp. He was forced to watch his brother's
death and at that point, he promised him he would survive
and avenge. Mr. Rosa spent several years in the indescribable
hell of Auschwitz, surviving countless encounters
with death. In January 1945, whilst on the infamous death
march, Mr. Rosa made a daring escape. Only one of the
two survived the escape, he was finally liberated by American
soldiers.
Remembering his promise, he joined the U.S. Military in
fighting the Nazis and eventually became a Nazi hunter.
He later earned five medals including a Purple Heart for his
exceptional courage under fire.
After the war, Rosa spent time in the arms trade helping to
equip people in Palestine, before applying to come to live in
the United States.
Mr. Rosa and his wife, also a Holocaust survivor, eventually
immigrated to the United States of America in 1948. For 55 years, he
did not talk about the atrocities he endured during the Holocaust.
Eventually his children convinced him to speak and
tell his story. Today, Mr. Rosa shares his tale of survival,
resilience, and hope around the country and is a frequent
guest of honor at U.S. Military bases. This is once-in-alifetime
opportunity to witness history and hear testimony
from a true hero, a giant among men.