ROHR CHABAD JEWISH CENTER
COLORADO STATE UNIVERSITY
ב"ה
Friday Night at Chabad for Jewish Students
"I will never forget Shabbat at Chabad!"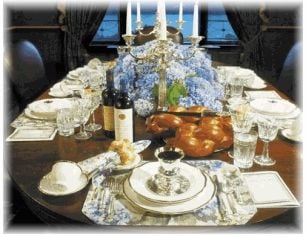 The weekly Shabbat dinners and lunches at Chabad will provide Jewish students -- from the freshman to the MBA -- an intimate and elegant setting to eat, meet new friends from every niche of the campus, and celebrate Shabbat in a warm and enjoyable manner.
Shabbat at Chabad features five courses of traditional classics and updated favorites.
There is no charge for a Shabbat dinner at Chabad for Jewish students, thanks to our wonderful sponsors. To sponsor a Shabbat at Chabad, please contact us.
Bring your friends and taste one of the greatest treasures known to the Jewish people -- Shabbat. Reservations appreciated but not required.
Show your Jewish Pride!
Would you like a Mezuzah for your Dorm Room?
Chabad has them, Free Of Charge. (With a deposit)
What's a Mezzuah? Click here to find out