Having trouble viewing this email? Click here to view online
A weekend with world renowned speaker & author
Simcha Weinstein
Inspiring, insightful and laugh-out-loud lectures
Friday, November 8 - Saturday, November 9
COMMUNITY SHABBAT DINNER
Friday, November 8 •  7PM
Colorado State University, Lory Student Center, Main Ballroom 
Join us again at & with CSU for a Community Shabbat Dinner.
Experience the beauty of Shabbat at a four course Shabbat dinner with all your favorite Jewish delights.  Learn the deeper meaning of Shabbat traditions, liturgy and menu. Enjoy great company, spirited singing and of course, sensational food. Inspiring guest speaker.
Topic:  Up Up and Oy vey! How Jewish History & Culture Shaped The Comic Book Superhero.
$15/adult, $10/child  
Free/ student (for full time college students not with family)
No one turned away for lack of funds.
Sponsor (we need you!) - $100 or any amount.
Shabbat Lunch & Lecture
Saturday, March 9 
Services 10am • Lunch & lecture 12:00pm
@ Chabad Jewish Center – 1121 W. Prospect Rd
A delicious Shabbat lunch with hot cholent and more.
Topic:  Shtick Shift: Jewish Humor in the 21st century. This isn't your zayde's Jewish comedy.
FREE of charge, $72/sponsor. RSVP required here
YOUNG JEWISH PROFESSIONAL LECTURE
Saturday Evening, November 9 • 7PM
@ Chabad Jewish Center – 1121 W. Prospect Rd
Young Jewish Professionals ONLY
Light refreshments served.
Topics: Love in the Time of Darwinism –successful relationships in today's challenging times.
About the Speaker
Following a childhood filled with comic books and superheroes, Simon  Weinstein studied film in college. Later he became the location manager for the British Film Commission, involved in the production of many feature films throughout England.
Following a major career change, Simon became Rabbi Simcha. 
Simcha today is an internationally known speaker and best-selling author of Up, Up, and Oy Vey: How Jewish History, Culture, and Values Shaped the Comic Book Superhero (winner of the Benjamin Franklin Award) and Shtick Shift: Jewish Humor in the 21st Century.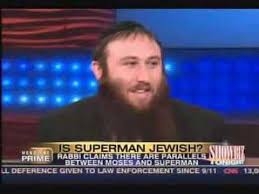 He has appeared on CNN and NPR and featured in leading publications, including the New York Times, Miami Herald, and London Guardian. He is a syndicated columnist for the Jerusalem Post, JTA, the Royal Shakespeare Company, Conde Nast and other agencies. He is faculty at at Pratt  Institute, the renowned New York art school where he chairs the Religious Affairs Committee.
Simcha was recently voted New York's Hippest Rabbi by PBS affiliate Channel 13. 
His latest book is  The Case for Children: Why Parenthood makes your World Better.

Simcha lives in Brooklyn Heights, NY with his wife, two children and vast comic book collection. See more at www.rabbisimcha.com